A Guide for Funders Who Believe Better Is Possible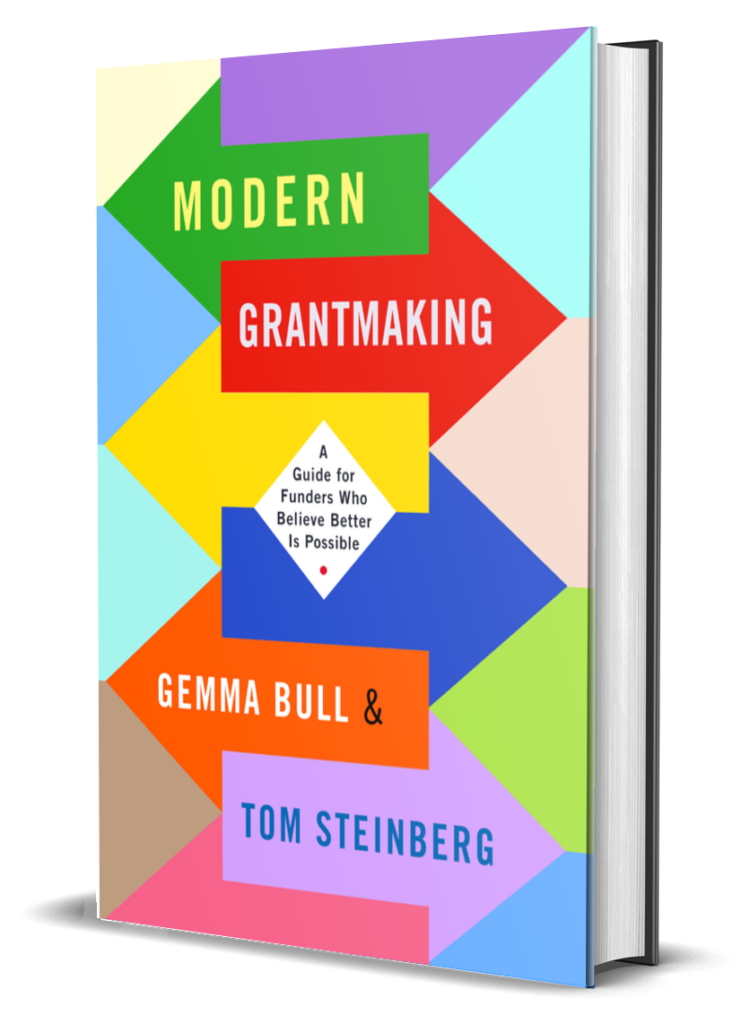 Our book is for anyone employed in the curious world of grantmaking, whether you work for a private foundation, a government funder, or a corporate donor.

We've written a practical guide that grantmakers can turn to whenever they need support. To make it quick and easy to use, we've filled the book with answers to real-world grantmaking questions.

But it's about more than handy tips. Every grantmaker can and should be a reformer too. Our book explains why this is so important and how you can get involved.
Who is this book for? · Is it even moral to work for Big Philanthropy? · Why should I pay any attention to your advice on grantmaking? · How do I use this book to improve my grantmaking? · Will this book tell me what causes and organisations to give money to? · What is the structure of this book?
pg 25 What is Modern Grantmaking?
What's been brewing? · What are the weaknesses of traditional grantmaking? · What are the values that underpin Modern Grantmaking? · How do I know if I'm living up to these values in my grantmaking? · An exercise on Modern Grantmaking values
pg 45 What are the no-brainers of Modern Grantmaking?
Make most of your grants unrestricted · Adopt a clear mission and make grants that support it · Make more long-term grants · Don't fund alone · Invest to make applying for your money easy and accessible · Say 'no' clearly and quickly · Don't bounce grantseekers into doing things that aren't their priorities · Don't short-change your grantees · Take safeguarding seriously · Be transparent about what you do and don't fund · Checklist
pg 75 What should I do about privilege?
What are privilege and power, and why do they matter to a grantmaker? · Can privilege undermine good grantmaking decisions? · Why haven't funders tackled the problem of unchecked privilege and problematic power imbalances · What does it look like when funders actually check their privilege and power? · Can you give an example of how a funder tackles privilege and power inequalities in its grantmaking? · Checklist
pg 107 How do I help my funder develop a good strategy?
What is a strategy and why would my organisation need one? · Do you have real examples of funders with clear strategies? · How do I help my funder come up with a good strategy? · How do we gather views on what should or shouldn't be in our strategy? · How do we actually make use of the new strategy to change things? · Is this the only way of coming up with a useful strategy for my funding organisation? · Checklist
pg 139 What big questions should all funders debate from time to time?
Should we be open to unsolicited proposals or be an invite-only funder? · Should we fund riskier projects with potentially higher pay-offs or less risky projects with lower pay-offs? · Who makes the final decision on who gets the money? · Should we worry about the financial sustainability of the organisations we fund? · How should we approach our own savings and investments? · How transparent and accountable should we be? · Should our funding organisation be permanent or should it spend down and close? · Checklist
pg 173 How can I improve the experience of grantseekers and grantees?
What causes bad applicant and grantee experiences? · How can I improve my organisation's user experience? · What is human-centred design? · How do I improve our service quality if I work for a small funder? · How do I improve our service quality if I work for a larger funder? · Checklist
pg 205 How should I use research?
When do grantmakers need to think about research? · What is the connection between research and monitoring and evaluation? · What are the most common problems with the ways grantmakers use research today? · What steps should I take to make better use of research? · How to find useful research: a cheat-sheet for busy grantmakers · Checklist
pg 243 How do I manage well both upwards and downwards?
What does a good manager look like in a funding organisation? · What are the traits of a bad leader or manager of grantmakers? · Are there specific mistakes I should try to avoid as a manager of other grantmakers? · How do I manage upwards to a board or a founding donor? · How do I go about hiring new grantmakers? · Checklist
pg 267 How do I keep developing my skills?
Why is a lack of good incentives a problem for Modern Grantmakers? · What is the most valuable thing I can do to keep getting better as a grantmaker? · What activities will improve my skills as a grantmaker? · What grantmaking courses and programmes do universities offer? · Checklist
pg 287 How do I become a grantmaking reformer?
What are the most important lessons in this book? · What does it mean to be a grantmaker who identifies as a reformer? · Are there grantmaker reform movements I can join? · Is Modern Grantmaking a movement I can join? · How can I get started with Modern Grantmaking?
What people are saying about the book
What an absolute triumph of a book! I blew through it cover to cover, and enjoyed every moment. Reading it has given me the bandwidth I needed to unlock a way forward on a few things I have been grappling with at my foundation.
This is the book I wish I had when I started grantmaking ... Training provided was about the nuts and bolts of day to day work but didn't provide the context or critical analysis to help me explore the why or how of the work. This book provides a solid foundation to help make the sector better for grantmakers and grant seekers. It helps us to challenge ourselves and the way we do things so that we can best support the communities we aim to serve.
This book is a must read or bible for anyone working in grant making who wants to understand their own impact ... It's written in a very readable way, and provides a practical and methodical guide to the pitfalls that can so easily beset grant making... I couldn't recommend it more highly.
This is a fantastic, accessible guide which will be of use to anyone working as a grant maker. Thoroughly recommended!
Bull and Steinberg are writing for people working in the trenches of grantmaking to give them energy for new ways of thinking and doing. And they are optimistic.
Excellent new book by @GemmaCBull and @steiny, arguing that "humility is the first value of modern grantmaking". A 'how to' and a persuasive call to put that into action.
Easy, low-cost international shipping
If you'd like to buy a copy without using Amazon, or if you'd like a hardback edition, please drop us a line.